Police Commander Ali Dizaei in new conviction appeal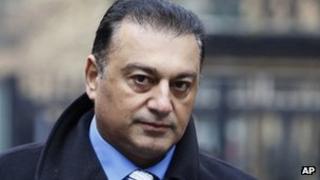 Disgraced Metropolitan Police commander Ali Dizaei has lodged an appeal against his latest convictions for misconduct in a public office and perverting the course of justice.
Dizaei was jailed last month for three years over an attack on web designer Waad al-Baghdadi in Kensington in 2008.
He was jailed following a second trial after his first conviction was quashed.
It is believed Dizaei will present fresh evidence in an effort to clear his name.
The grounds for the appeal are understood to relate to the alleged "bad character" evidence of the main prosecution witness, Mr al-Baghdadi, which was ruled inadmissible at the second trial.
Dizaei attacked Mr al-Baghdadi after the designer confronted him about money he was owed for creating a website.
Southwark Crown Court heard Dizaei, of Acton, west London, inflicted injuries on himself in order to frame Mr al-Baghdadi.
Dizaei has been released from prison on an electronic tag and is awaiting the outcome of a disciplinary review to determine whether he will be dismissed from his job.
He has also issued a statement in response to revelations at the Leveson Inquiry that the News of the World's crime editor, Lucy Panton, used a computer in the office of Scotland Yard's public affairs chief, Dick Fedorcio, to file a story.
The story, which was published in the paper, related to claims about Dizaei when he was in prison in 2010.
Dizaei said: "I have always known the Metropolitan Police media machine helped and encouraged News of the World journalists to brief against me to undermine me as a senior police officer.
"Mr Fedorcio's explanation to the inquiry is simply implausible.
"Using or allowing the use of a police computer by a non-member of the Met is an offence and I trust Mr Fedorcio will be held to account for his unprofessional conduct."
He added: "The published story in question was false and it made life very difficult for me in prison."
The Met declined to comment.
Dizaei was first convicted in 2010 and served 15 months in prison before his conviction was overturned by the Court of Appeal.