London riots: Poll suggests worst areas feel unsafe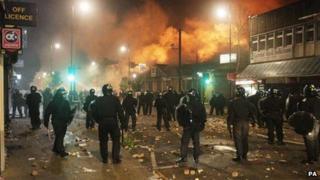 Half of Londoners living in the areas worst affected in last summer's riots do not feel safe in part of their borough, a poll has suggested.
The BBC London 94.9 poll, carried out by ComRes, surveyed 1,007 adults living in Croydon, Greenwich, Hackney, Haringey and Southwark.
Based on numbers of arrests and charges, they were the boroughs worst affected during the disorder.
Some 50% of residents said they felt unsafe in part of their borough.
The perception of danger was greatest in Hackney and Croydon, with 54% and 52% respectively saying an area there felt unsafe.
Councillor Sophie Linden, Hackney Council's cabinet member for crime, said: "Crime in Hackney is at its lowest for 10 years, but it does concern me that residents could feel unsafe in some parts of the borough.
"We need to work harder with the police to make sure that residents feel safe in Hackney."
A Croydon Council spokesman said: "Despite what people might think, statistics show that people are really just as safe living in Croydon as they are in any similar part of London.
"We welcome every opportunity such as this to set the matter straight so that our residents and visitors can feel reassured."
The riots initially began with a protest against the killing of Mark Duggan during an armed vehicle stop.
But three-quarters of people polled felt that the police are on the side of ordinary people in their local area.
'Scope to improve'
Confidence in the police was lowest in Hackney (68%).
Assistant Commissioner Mark Rowley of the Metropolitan Police said: "Regardless of the headlines we see regularly it is reassuring to know three-quarters of the people questioned for the BBC survey recognised the police were on their side.
"Of course, there is always scope to improve and our commitment to total policing means a relentless war on crime and care for victims.
"I hope those people who feel there are areas that they don't feel safe to go speak to their local police so that their concerns can be addressed."
But the majority of Londoners (56%) did not think that politicians or local councils cared about helping local residents.
A spokesman for London Councils, which represents the capital's local authorities, said: "For councils across London the riots were an unprecedented challenge.
"Local authorities were essential to the recovery, responding speedily to clean up the streets, help businesses recover and restore social cohesion.
"Since last August councils have been working closely with local people to identify what more needs to be done to improve their neighbourhoods."
Some 200 demographically representative people were surveyed in each of the boroughs.