London 2012: Olympic road closures revealed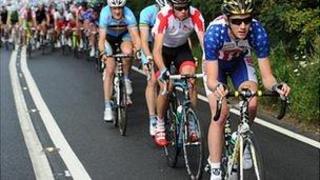 Road closures for this summer's London Olympics have been revealed.
Residents and businesses are being told of the route changes, including parking restrictions, via a publicity campaign, Transport for London (TfL) said.
Hackney, Waltham Forest and Greenwich councils have lodged objections to some of the planned restrictions, warning of severe congestion.
Road events take place on seven days of the Games and one day of the Paralympics.
The closures affect the routes of the road cycling, triathlon, marathon and race walking events.
Affected areas include Westminster, City of London, Kensington and Chelsea, Hammersmith and Fulham, Kingston upon Thames, Wandsworth and Richmond upon Thames - as well as parts of Surrey.
Along one section, taking in Euston Road, City Road and Commercial Street, some bus stops and pedestrian crossings will be suspended with some right turns banned on event days.
The majority of road events will be held at weekends and some competitions will only take place for a few hours beginning in the morning, organisers have said.
Where possible, they said, roads will be reopened and restrictions lifted by the late afternoon or early evening.
No roads will be closed overnight apart from the roads needed to build the Cycle Time Trial venue at Hampton Court Palace in south-west London.
Key venues
Many of the road events will be located on roads that make up part of the Olympic Route Network (ORN) - also known as theGames Lanes- which link key venues to ensure competitors, officials and certain others get to events on time.
While events are taking place on sections of the ORN, an alternative route will be used by Games vehicles.
There will also be road closures in parts of west, south and central London on Thursday, 26 July - the day before the Games' opening ceremony - when the Olympic Torch travels through.
Concerns over the road closures by three of the Olympic boroughs were raised during a transport committee meeting at City Hall on Tuesday.
The BBC's Olympics Correspondent Adrian Warner said Waltham Forest, Greenwich and Hackney had lodged an official complaint about the impact of the closures.
He told BBC London: "Road closures and bus diversions may not seem like a massive issue in the bigger scheme of the Olympics but it matters to local people.
"Two of the boroughs say that two of the bus routes that will be changed are routes that people regularly take to hospital. That's why they're putting pressure on TfL and Olympic officials."
TfL surface transport managing director Leon Daniels said: "The world's top athletes will be competing on London's streets this summer. We need to ensure their safety, that of the spectators, and provide the best possible field of play.
"We're working closely with London 2012 and boroughs to ensure all affected residents and businesses are informed of where and when roads will be closed or impacted on event days."
"Areas around road events will obviously be busier than usual."
TfL is urging drivers to avoid the travel hotspot areas where possible or, if journeys are absolutely essential, to plan ahead and allow more time.
London 2012 chief executive Paul Deighton said: "The road events are a fantastic element of Olympic sports competition, allowing many people to see world-class sport in London and surrounding areas. For those who live and work in London planning for these events is essential.
"Working closely with TfL we are informing about road closures in good time, with five months until the Games in this case, to ensure there is ample time to plan."