Antoni Imiela trial: Victim 'could not call out'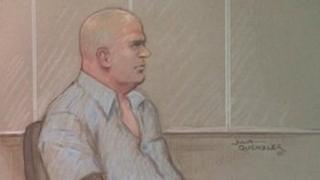 A rape victim heard her husband walk past as she was attacked but could not call for help, a court has heard.
Erwin Jankowitz told the Old Bailey his wife had said she had heard him pass by but her attacker had his hand over her mouth and threatened to kill her.
Antoni Imiela is accused of the rape, indecent assault and serious sexual assault in south-east London of Sheila Jankowitz, who has since died, in 1987.
The 57-year-old denies the charges, claiming sex was consensual.
Mr Jankowitz told the court his wife returned to their flat in Forest Hill in the early hours of Christmas Day saying she had been raped.
He said her hair was messed up and she was in "a bit of a state".
"It's the worst thing you'd want to be told, to hear your wife's been raped," Mr Jankowitz said.
"It's horrific. I suppose you feel so helpless."
Cold case
The court heard Mrs Jankowitz took her husband to the site of the attack - behind a shed near their Forest Hill flat - and told her husband what had happened.
Mr Jankowitz said: "He had his hand over her mouth and said if she screamed he was going to smash her head in.
"That really upset me, because the shed was so close, two metres away. I could have stopped it happening but as he had his hand over her mouth restraining it, she couldn't call out."
Mr Imiela's DNA was linked to the attack more than two decades later by detectives from a cold case squad.
The jury has been told that in 2004 he was convicted of seven rapes of women he did not know.
Two years after the alleged attack, Mrs Jankowitz sought treatment for mental health problems.
After being discharged from hospital she returned to South Africa and her marriage ended.
The trial continues.