London Mayoral candidate Boris Johnson: Medics for Tube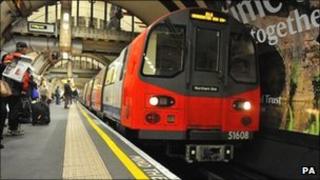 Plans to deploy medics on the Tube network have been announced.
Conservative London mayor Boris Johnson, who is standing for re-election in May, said he hoped this would mean reduced delays if passengers were taken ill.
It is part of a £20m scheme Mr Johnson says will make the Tube 30% more reliable if he is re-elected.
A spokesman for Labour mayoral candidate Ken Livingstone said it was " too little, too late".
A trial will see dedicated medical officers and extra first aid training for British Transport Police on the network.
Mr Johnson is proposing a £20m investment fund to improve the network's reliability.
It would cover the cost of advanced signal monitoring technology to predict when maintenance on the lines is needed.
Mr Johnson said: "Millions of Londoners use the Underground every day and we need to harness every single method we can to run the slickest possible operation on the Tube.
"I believe that by doing so we could cut Tube delays by 30% by 2015.
"Without the long-term investment we are making, there would be a real danger that the Tube would have taken one step forward then five steps backwards."
A spokesman for Ken Livingstone said: "Londoners long ago gave up on the mayor's ability to get a grip of the Tube.
"Boris Johnson has redefined the definition of what constitutes delays on the Tube in order to fiddle the figures on tube performance."
Jenny Jones, the Green Party mayoral candidate, said: "There are some good ideas here, but they shouldn't be implemented at the cost of basic passenger welfare.
"People using public transport in London want security and help on a daily basis, not just for extreme emergencies."
Liberal Democrat candidate Brian Paddick is yet to comment.