Antoni Imiela trial: Serial attacker 'raped stranger' in 1987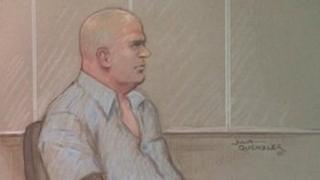 A serial sex attacker violently raped a stranger and was traced through his DNA years later, a court has heard.
Antoni Imiela, 57, is on trial at the Old Bailey accused of raping Sheila Jankowitz near her flat in south-east London on Christmas Day in 1987.
Prosecutor Richard Hearnden said Mrs Jankowitz, who has since died, suffered a "horrific ordeal". Mr Imiela denies the charges.
Years later he was convicted of raping seven other women.
Mr Hearnden said that between November 2001 and the autumn of the following year, Mr Imiela carried out a "savage and perverted campaign against total strangers".
Mr Imiela claimed Mrs Jankowitz consented to sex with him, the court heard.
Mr Hearnden told the jury: "The prosecution say it would be an extraordinary coincidence for Mrs Jankowitz to have fabricated an allegation of rape against a totally innocent man, a man with whom she had enjoyed consensual sex and a man who we now know later went on to rape seven other females in similar circumstances."
'Tried to resist'
The court heard Mrs Jankowitz had been to the pub with her husband on Christmas Eve in 1987, but the couple had an argument and went their separate ways.
She returned to their Forest Hill flat to see if he was there and finding he was not, decided to go out again by herself.
As she walked towards the main road Imiela grabbed her, put his hand over her mouth, dragged her on to waste ground and assaulted her, the court heard.
He then threatened to kill her after repeatedly punching her in the face as she tried to resist, jurors were told.
Her mother-in-law Jill Stevens told the court that she was not concerned when Mrs Jankowitz left the flat alone as it was a "good part of London".
About an hour later, Mrs Jankowitz returned "looking a mess".
Ms Stevens said: "She said 'I've been raped' and she was very upset.
"I didn't believe her, I thought she was trying to upset my son.
"For him that was the worst - he sees himself as the woman's protector and for his wife to come home and say she'd been raped was too much."
'Consensual sex'
She said she changed her mind when her daughter-in-law agreed to go to the police.
A doctor found that marks on her face and legs supported her account that she had been raped, Mr Hearnden said.
The court was told Mr Imiela was arrested some two decades after the attack in 2010 when a cold case team matched his DNA with samples taken from the victim.
In March last year he said in a defence statement that he had consensual sex with Mrs Jankowitz.
Her police statement read: "At no time had I seen this man before and I didn't ask him to have sex, he just did it. I said no, I struggled."
Mr Imiela, originally from Appledore near Ashford, Kent, denies rape, indecent assault and another sex offence.
Mrs Jankowitz died in 2006.