London 2012: Olympics deadline for firefighters to volunteer for Games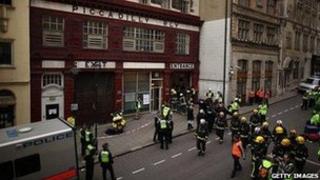 London Fire Brigade (LFB) has given firefighters a deadline of Friday night to volunteer to work extra days during the Olympics.
More money is being offered to firefighters to work on days off.
Negotiations have broken down with the Fire Brigades' Union (FBU) so management hope staff will sign up individually.
The FBU is urging members not to volunteer until a wider dispute is settled.
The plans were revealed at a meeting of the London Assembly health and public services committee.
Getting people accredited for the Olympic Games can be a long process so the emergency services need to finalise who will be where.
LFB has been trying, through the union, to get firefighters to work on their off days so it can have fire engines in the Olympic Park along with police and ambulance services.
Extra contingency
No agreement has been reached so the LFB's director of operational resilience, Gary Reason, has decided to bypass the union.
He said: "We took the decision to write to over 300 firefighters individually who have already registered an interest in this to let them see the detail of the contract.
"In addition to that we had lots of enquiries from firefighters who didn't originally show an interest so have now written to all other firefighters to offer them the same opportunity."
As an extra contingency Mr Reason has written to retired firefighters to see if they would be willing to work.
He said: "We have offered over 300 firefighters who have left within the last two years the chance to come back and be part of the Olympic Games."
If not enough volunteers come forward Mr Reason insists the safety of the Games will not be put at risk.
He said: "It's really like the Rolls Royce end of the solution to have firefighters dedicated to the Olympic Park.
"If we can't secure that we are confident we will have 169 front-line fire engines, other specialist resources and officers that London enjoys every day of the year."
He has offered around £3,000 for between 10 and 12 extra shifts during the Olympics.
An FBU spokesman said: "We believe the service does need the extra coverage because of the significance of the Olympics.
"We are asking firefighters not to sign these secondary contracts until a wider dispute, which has been going on since last October, is settled."
The union's dispute with management is about "detrimental changes to members' conditions of service".
Working overtime
The London Ambulance Service will have 400 dedicated paramedics stretched across the various Games venues.
Two hundred of those will be drafted in from elsewhere in the UK.
Heathrow Airport and St Pancras International will also have ambulance staff based there.
Jason Killens, deputy director of operations at the ambulance service, told the London Assembly: "We have tried to computer model the number of extra calls we might receive but it is difficult to get it exact.
"There are lots of variables depending on how hot the summer is. In high temperatures you get a significant increase in calls."
Ambulance and police staff have been asked not to take annual leave in July and August and are being asked to work overtime.
St John's Ambulance and the Red Cross are also helping out.
The Met will be drawing in officers from outside London.
All three services will have staff sitting together in control rooms so communication can be maintained.
Hear more on Friday's edition ofYou and Yourson BBC Radio 4.