London's newest village green aims to thwart sewer plan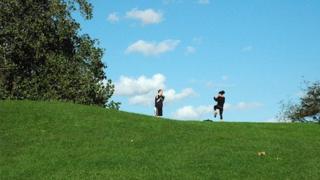 A council in south-east London has granted a small park village green status after Thames Water earmarked it for use in its super sewer scheme.
Southwark Council said King's Stairs Gardens in Rotherhithe had been given extra protection by law after a campaign by local residents.
The riverside gardens in Jamaica Road were part of Thames Water's phase one plan for a new shaft.
Thames Water said brown field sites were preferred over green field ones.
After a nine-month campaign by residents, the council used the Commons Act 2006 to make the eight-acre site a village green.
Campaigners said they hoped its new status would help protect it from future developments.
'Layer of security'
A spokeswoman for Thames Water said King's Stairs Gardens is still a "shortlisted" site for use, but since November when phase one of consultation ended it has no longer been considered a "preferred" site.
Instead, Chambers Wharf, a brownfield site, is the favoured location.
The Thames Tunnel sewer, which requires construction at a number of sites from west London to Abbey Mills Pumping Station, would "help tackle" the 39 million tonnes of raw sewage that leak into the River Thames every year, the company said.
It is claimed it will protect the River Thames from increasing pollution for at least the next 100 years.
Roger Bilder, chairman of the Save King's Stairs Gardens Action Group, said the granting of village green status was a welcome "recognition of how much the park is used, appreciated and loved by the local community".
He said: "It's a wonderful open space, one of the very few riverside parks in central London.
"Although nothing can guarantee 100% protection, this adds another robust layer of security against Thames Water or anyone else who may see this park as a potential site for construction works or development."
The second phase of public consultation for the sewer scheme finished on 10 February.
A Thames Water spokeswoman said: "We will be publishing our consultation report in May and seeking to submit our development consent order towards the end of the year."
Meanwhile, Hammersmith and Fulham Council is at loggerheads with the government over its advice that the authority cannot approve planning proposals for a riverside brownfield site in Sands End in Fulham, earmarked for the sewer.
Councillor Nick Botterill, deputy leader of the Conservative council, called the instructions "centralist, heavy-handed and against the Government's localism agenda".