London Riots: Police were put at 'unnecessary risk'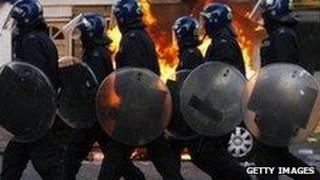 Officers were put at "unnecessary risk" after being sent to tackle last year's riots in hired minibuses more suited to a school day trip, a report has said.
Vans and minibuses were too small to carry riot shields, had no radios and many of the doors were not able to be locked.
A Metropolitan Police Federation review found officers were inadequately equipped to deal with the London riots, including running out of water.
The London force is yet to comment.
More than 8,000 officers were surveyed.
The report stated the "policing plan was unsustainable", defective batons and a shortage of shields "exposed officers to unnecessary risk", and officers ran out of basics such as water while on duty.
One in five officers reported problems with radio signals and patchy radio reception across London.
More than 200 officers worked for more than three weeks without a day off, including 15 who worked all 31 days of August, with many suffering from the effects of burn-out, the report stated.
Defective equipment
Almost half (3,859 or 45%) said they suffered fatigue and one in six (1,407, 16%) said they suffered stress. But one in five (1,798, 21%) said they experienced "no ill effects".
The report said: "These symptoms could have had an effect on the command and control process of police deployments.
"It was clear that many officers were angry at the way their safety and welfare had been compromised through protracted tours of duty with insufficient or defective equipment and little welfare support."
Peter Smyth, the federation's chairman, said: "Met bosses must as a matter of urgency ensure that enough properly equipped vehicles are available for deployment.
"The use of so many hire vehicles in particular was staggeringly inappropriate for the role they had to play leaving officers in these vehicles with little projection from projectiles or the rioters themselves.
"All police officers understand the exceptional nature of the riots, which is why so many of us were willing to give 110% during the crisis working for weeks without days off and sleeping on station floors.
"But it is completely unacceptable when a lack of safe equipment left officers at real risk of unnecessary harm during their duties or unable to help colleagues in danger."
'Fit for purpose'
Lessons from the Front Line, a report on the Met's Operation Kirkin, called for Scotland Yard to review the equipment available to officers during public order deployments and for more welfare support for officers.
Police chiefs should consider the quality of friction lock batons, carry out a full audit of long and short shields, and ensure "sufficient equipped vehicles are fit for purpose and available", it said.
The report also called for a review of "the quantity, quality and nutritional value of food", as well as "where and how officers are fed".
It comes after a leaked internal report on how UK forces responded to the disorder which swept across English cities last summer said police were forced to use their own mobile phones when radios failed.