Pair admit £46,000 London bike hire scam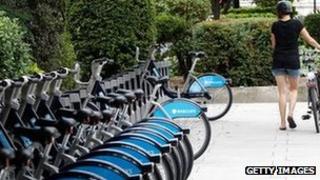 Two fraudsters have admitted swindling £46,000 from the London cycle hire scheme.
Nana Boateng and Jose Dias made dozens of bogus refund payments to their friends while working for Serco, the company that organises the scheme.
The pair unlawfully arranged for refunds to be put into seven friends' accounts, Southwark Crown Court heard.
Boateng, of Enfield, and Dias, of Clapton, both 26, admitted one count each of fraud by abuse of position.
The court was told the fraud took place between September and December 2010.
Former Serco employee Devina Joseph-Albert, 22, of Glyn Road, Clapton, also admitted one charge of money laundering.
At previous hearings their co-conspirators all admitted one charge of money laundering. They are:
Darnel Joseph-Albert, 20, also of Clapton (Devina Joseph-Albert's brother)
Zakir Bhad, 24, of Norwich Road, Forest Gate, east London
Samuel Njie, 26, of Chapworth Street, Leyton, east London
Elizabeth Spencer, 36, of Ashenden Road, Clapton
George Hayden, 30, of Kingsway, Enfield
Sakinah MacAulay, 24, of Hertford Road, Enfield
All defendants are due to be sentenced at the same court on 11 May.
The cycle hire scheme was launched in July 2010.