Thames Barrier test closure to be on Jubilee pageant day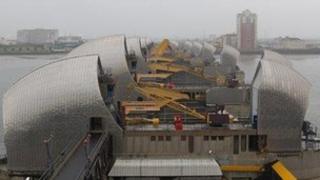 The annual Thames Barrier test closure will coincide with the Thames Diamond Jubilee Pageant.
It will close on Sunday 3 June when the river will be shut to normal navigation to allow a flotilla of 1,000 vessels to travel along in celebration of the Queen's 60-year reign.
The flood barrier closes each month for checks to ensure it is working properly but once a year a full test closure is performed over a high tide.
It will close at 09:30 BST until 23:30.
Andy Batchelor, flood risk manager at the Thames Barrier, said: "The Thames Barrier, and its associated defences, form one of the best tidal flood defences in the world and the pageant gives us a unique opportunity to test its design for a longer period than we would normally be able to.
"We will be able to maintain a higher water level upstream than downstream, giving us a chance to test how the barrier performs under these conditions."
Mr Batchelor said holding the test closure on 3 June will also ensure more stable tidal conditions on the river in central London, which will help the vessels taking part in the Jubilee flotilla.