London 2012: Games 'no significant impact on air quality'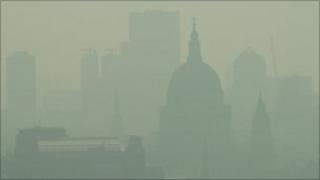 The 2012 Olympics will have no significant impact on air quality in London, a report has suggested.
Changes to road management during the Games are likely to have "broadly neutral impact on air quality", Transport for London (TfL) said.
The reportdoes acknowledge that some areas may see a slight and temporary increase in two pollutant gases.
Clean Air in London (Cal) said the increase shows the Olympic Road Network (ORN) will breach air pollution law.
TfL said there were a number of city-wide initiatives introduced to decrease pollution, such as low-emission vehicles, cleaner buses, banning the most polluting taxis and tightening the Low Emission Zone standards.
The report was carried out using modelled data from King's College, which looked at the traffic impacts of the ORN.
Data show there should be a slight net reduction in tiny airborne particles called PM10 and NOx emissions in the capital overall, although there may be some areas which could see slight increases in levels of pollution.
To reduce these pollutants, options include using dust suppressants along key transport links, such as the A12 and A13, retro-fitting single deck buses with specialist equipment to reduce NOx (nitrogen dioxide) emissions and ongoing work to reduce vehicle idling.
Simon Birkett, founder and director of Cal, said just because the average air pollution would not increase, it was unacceptable that some areas would see a rise in pollution.
He said the Air Pollution Law meant that every area had to be clear, and not just a wide area on average.
"This report confirms what we were told last April that the Olympic Route Network will lead to breaches of air pollution law... it seems they have no plans to deal with it."