How young help old and cut London's rental costs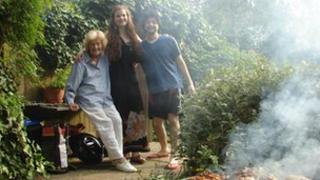 As the cost of privately renting in London continues to rise, the need to keep costs down while living within commuter distance is a challenge.
According to LSL Property Services, the average rent rose by 0.8% in London in January with the average monthly rent in the capital now standing at £1,032.
Saving enough money for a deposit to buy a home is out of reach of many young Londoners.
It is why Eleanor and her partner Mario decided to consider other ways of living as near to the centre of town as possible but at a reduced cost.
They found out about a homeshare scheme run by Crossroads Care CNL, a Camden-based charity.
It aims to help elderly people stay in their homes by partnering them up with younger tenants who will help them around the house for a reduced rent.
'Wonderful people'
Anita Bild, 97, lived alone for a number of years in Highgate after her husband died but when a severe bout of pneumonia meant the removal of a lung it was increasingly difficult for her to cope.
Eleanor and Mario have lived with Mrs Bild since last summer and the arrangement suits both parties.
Eleanor said: "We help Anita with the shopping, preparing light meals, light cleaning and go out at weekends where possible. It's companionship as well.
"We have our own bedroom, a lounge and bathroom but also access to the rest of the house so we have more space than when we were renting a very small flat privately."
A room in a house in the Highgate area would cost on average £650 a month but Eleanor and Mario, who are saving to buy a house, pay £300 under the homeshare scheme.
Mrs Bild enjoys the company and the independence the scheme gives her and, in the years that she has used the scheme, she has had only one "disaster".
She said: "I had one woman who spent a lot of the time in the bath with a glass of wine while the saucepans burnt in the kitchen so, she was not very successful!
"I've mostly had wonderful people and I'm still in touch with many of them."
Homeshare manager Jenny Bush said: "It's not for everyone but many people need to be in central London to work and this offers an option.
"It provides companionship for the homeowners and 10 hours of help around the house a week.
"Our homesharers are carefully selected and it offers them huge savings on typical London rents."