Baby P's father gets £75k libel damages from The People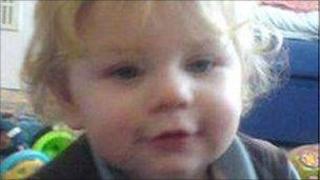 The natural father of Baby Peter has been awarded £75,000 in damages after the publishers of The People wrongly accused him of being a sex offender.
The newspaper said the father, known only as KC, was convicted of raping a 14-year-old girl, the High Court heard.
The judge said it was "difficult to think of any charge more calculated to lead to the revulsion and condemnation of a person's fellow citizens".
Publishers MGN Ltd had apologised and previously offered to pay damages.
But the offer was not enough to compensate the father for "one of the gravest libels imaginable", Mr Justice Bean was told at an earlier hearing.
The false allegations were contained in two paragraphs in a crime supplement about Peter's mother, Tracey Connelly, who had separated from his father.
Damages 'disproportionate'
They appeared in The People on 19 September 2010 in an article entitled "Tortured to death as mum turned a blind eye".
Peter Connelly, was 17 months old when he was found dead with more than 50 injuries at his mother's home in Tottenham, north London, in August 2007.
The toddler's mother was jailed in 2009 after admitting causing or allowing his death along with her boyfriend Steven Barker and their lodger, Jason Owens, who was Barker's brother. Barker and Owen were convicted of the same charge.
The court heard MGN's offer of compensation came late.
Giving his decision, Mr Justice Bean said KC had indicated he was willing to settle for £75,000 in May last year and he should be awarded part of his costs against MGN to reflect that.
The judge said the nature of the accusations was "far worse" than in other cases lawyers referred to in court and the "no smoke without fire" point applied with particular force.
Following the judge's decision Heather Rogers QC, for MGN, sought permission to appeal on the grounds that the compensation order was too high and "disproportionate".
The judge refused the publisher permission to appeal, but he put a stay on £45,000 of the damages being paid out until after the Court of Appeal decides whether or not to hear MGN's case.