Concern over 'retaliation attacks' after London stabbings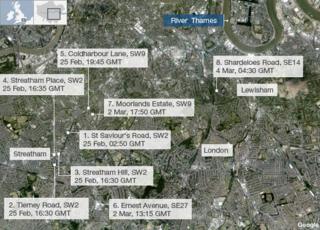 A Metropolitan Police Commander has said he is "very concerned" over the "escalation in gang violence" following eight knife attacks in south London.
Commander David Zinzan said the Met was examining if the death of 17-year-old Kwame Ofosu-Asare in Brixton on Friday was linked to five stabbings on 25 February and two others since Friday.
He said an escalation in gang activity "might be of retaliation-type attacks".
Extra officers have been patrolling in and around Lambeth since the attacks.
'Innocent lad'
Kwame, from Catford, died on the way to hospital after he was attacked on the Moorlands Estate, Brixton, on Friday afternoon.
The eight knife attacks since 25 February took place within a small area of south London, but the Met said there was no evidence that the final stabbing - one in New Cross on Sunday - was connected to the others.
Mr Zinzan said: "We can't clearly link them but we believe there's been an escalation in gang violence, might be of retaliation type attacks.
"We are very concerned with the escalation and the severity [of the attacks] over the weekend.
"He [Kwame] had absolutely no criminal record, never been in trouble with the police, no links to gangs at all, a completely innocent lad walking through an estate, which makes it more tragic.
"There are more patrols on the street and we are working very closely with the new Trident Gangs Command. There will be a lot of activity, overt and covert activity, taking place over the next few days."
The Met has asked for information about the attacks, especially the stabbing of a 17-year-old on the upper deck of bus number 432 on Friday when it had stopped outside Norwood Bus Garage.
Nick Mason, who is chair of the Growing Against Gangs Foundation and a member of the Met Police Service Children and Young People Strategy Board, said: "This is not a problem for police alone but a problem for the community.
"Local authorities, local communities, families, schools, all have a role to play here in educating young people at a much earlier age about the impact of knife crime and the consequences of becoming involved in violence and to try and help young people make better choices at a much earlier age."