Brixton murder: Kwame Ofosu-Asare died of stab wounds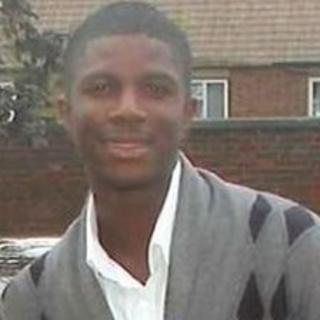 A post-mortem examination has found a murdered sixth-form student died of multiple stab wounds - as concern grows over eight possibly-linked stabbings.
Kwame Ofosu-Asare, 17, from Catford, died on the way to hospital after he was attacked on the Moorlands Estate, Brixton, at about 17:50 GMT on Friday.
Police are examining if it was linked to five stabbings on 25 February, another on Friday and one on Sunday.
The eight knife attacks are all within a small area of south London.
Police said there is no evidence that the final stabbing - this one in New Cross on Sunday morning - was connected to the others.
But they have not ruled out links between all eight attacks.
Senior officers and community leaders have appealed for calm following the outbreak of violence. No arrests have been made over the murder.
Mayor of London Boris Johnson said it was vital to have a strong policing solution and take any gang-related stabbings "incredibly seriously".
He continued: "Every death is one too many.
"You have to go into there, find out what's happening on those estates, work with those young people, find out what's going on in their lives.
"You've got to give them better alternatives."
It is believed Kwame was with a companion on the way to his friend's relative's house in Brixton when they were chased by two young men and assaulted.
Kwame's friend was not injured.
The suspects are described as two young black men.
An incident room has opened under Det Ch Insp John McFarlane.
He said: "Kwame was an innocent young man enjoying himself on a Friday afternoon when he was pursued and attacked by two knifemen.
"I am appealing for anybody who was in or around the Moorlands Estate at that time and may have any information to come forward."
Kwame is the second teenager to die violently in London this year.
A 16-year-old detained in connection with the Friday stabbing which left a teenager critically ill has been released on bail.
The suspect was arrested close to where the victim, 17, was attacked in West Norwood.
It has emerged he was stabbed on the upper deck of a Route 432 bus which had stopped outside Norwood Bus Garage.
There were other passengers present at the time, and police are asking them to come forward.
The victim is now said to be stable.
Police say they have increased patrols in Brixton.
Meanwhile, police have revealed another teenager was stabbed and left in a critical condition north of the Thames on Saturday evening.
The 18-year-old was found in Gloucester Street, Pimlico, with knife wounds and a head injury.
Police have made nine arrests for a variety of offences in connection with the incident.
It means there have been at least nine stabbings in London over the last 10 days.
Officers have given no indication as to whether the Pimlico stabbing was connected to the others.