Ken Livingstone's London 'a shambles' says Johnson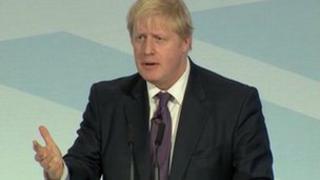 Boris Johnson has told the Conservative Spring Conference the previous mayor Ken Livingstone's administration was a "shambles".
Mr Livingstone was mayor from 2000 until 2008, and faces the incumbent Mr Johnson in May's election for the role.
But Mr Johnson said he presided over "a bunch of Trotskyist, car-hating, Hugo Chavez idolising, newt-fancying hypocrites and bendy bus fetishists".
Mr Livingstone's team said the mayor was resorting to "stale arguments".
Mr Johnson told the audience in London: "The greatest risk of all is that the government of the greatest city on earth would be lost to a bunch of irresponsible socialists at the worst possible time.
"Because of my natural benevolence, cheeriness and good nature we have allowed people to forget what a shambles the previous administration was.
"The arrogance, the waste that frankly bordered on corruption."
He continued: "I don't mean just the small stuff, like spending £37,500 on first class tickets on himself and a couple of chums to go to Havana.
"Or £12m on his own personal news sheet or £34m on plans for a tram that no-one wanted and had not a chance of being built.
"Or hundreds of millions firehosed at a bunch of useless projects via the London Development Agency."
Mr Johnson went on: "The whole budget when we got to City Hall was out of control.
"And we took control, we turned it round and we have taken out huge sums in waste.
'£2bn saved'
"25% of the directors that I found at Transport for London are now pursuing alternative career opportunities in Caracas and elsewhere.
"We've saved £2bn already and we're putting that money where Londoners want to see it."
A spokeswoman for Ken Livingstone said: "Boris Johnson is fatally stuck fighting the stale arguments of the last election, when Londoners are crying out for action now to cut fares and ease the squeeze on their living costs.
"Boris Johnson has hit people hard with soaring annual, above-inflation fare rises that have seen a bus fare rise by half, whilst cutting police numbers at a time of rising crime.
"Ken is focused on meeting Londoners' pressing needs now - there is a clear choice on offer, between Boris Johnson's high fares policy and Ken's fares cut."
She continued: "Under Ken we had real action - cutting congestion, increasing police, sharply falling crime, free travel for school kids, winning the Olympics and licensing mini-cabs.
"He will use his proven ability to do the job and his commitment to Londoners to make a real difference."
Among the other candidates in May's election are the Liberal Democrat Brian Paddick and the Green party's Jenny Jones.
'Punch and Judy politics'
Mr Paddick said voters wanted a mayor who will make London "a safer, fairer and a more civilised place to live and work in" and the Lib Dems were "the positive alternative".
He added: "Boris Johnson spent half his speech criticising the former mayor and the other half looking back at his own patchy record using selective and misleading statistics.
"Ken Livingstone's people reply in kind, spending half their reply criticising the mayor and the other half putting forward totally unaffordable proposals."
Ms Jones said: "All the mayor has in response to our problems - and in place of any vision for the capital - is this kind of playground taunting.
"Those of us who had hoped we could avoid the Punch and Judy politics of the last election look like we'll be disappointed.
"These kind of attacks can only strengthen the growing mood of frustration with the three old parties, and the Green Party offers a real alternative."