Chelsea FC: New Stamford Bridge stadium 'unfeasible'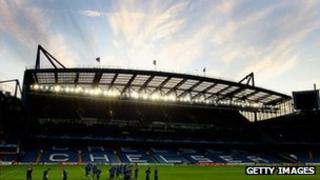 Chelsea Football Club says the £600m cost and three-year building time needed for a new stadium at Stamford Bridge make it unfeasible.
The Blues published a presentation made to Chelsea Pitch Owners (CPO) last week explaining the problems of the project.
The club hopes to convince the fan-owned company to sell it the stadium in order to trigger a possible move.
It said expanding the ground made no economic sense, while a new stadium faced major planning obstacles.
CPO acquired the freehold to the stadium in 1997 to protect Stamford Bridge from developers should the club run into financial difficulties.
The club attempted to buy back the stadium freehold last October, but not enough CPO shareholders voted to accept the bid.
The club had been accused by CPO of not fully exploring the possibility of staying put at Stamford Bridge.
Chelsea has now published details of its latest presentation to the company on its website.
Chelsea said in a statement: "We are not in any way stating the club has made a decision on the need to move."
But it continued: "It is clear to the board that a complete new build of a 60,000 seat stadium at Stamford Bridge has little chance of acceptability.
"A 60,000 new-build would cost over £600m and require the club to play away for at least three seasons.
"Even if the economics were acceptable, the planning risks would likely be insurmountable."
The statement went on: "Expanding Stamford Bridge to 55,000 also has a number of challenges.
"The cost-per-seat of expanding the stands is very high.
"The incremental revenues would not even cover the hypothetical financing costs."
'Persuasive case'
CPO said in a statement: "The presentations were very open, with regular input, questions and points made by the CPO board.
"We have hoped and felt that there might still be some way to expand the capacity of Stamford Bridge.
"Having seen the detailed analysis, we all felt that a persuasive case was put that this might no longer be feasible or viable."
Chelsea thinks Stamford Bridge's capacity of 42,000 puts it at a financial disadvantage to rivals such as Arsenal, whose stadium holds 60,000.