London NHS Trust urges maternity and A&E units closure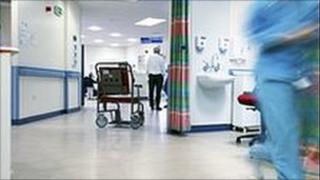 A London health trust has said closing a maternity unit and an Accident and Emergency at one of its four hospitals will improve services.
The recommendations were set out in a report by NHS South West London on the future of local health services.
Health campaigner Geoff Martin, from Merton and Sutton TUC, said St Helier Hospital was likely to face the cuts.
The NHS trust said no decisions have been made and the report's aim was not to cut but "redesign services".
The four hospitals run by the trust are St Helier Hospital, St George's Healthcare Trust, Croydon Health Services, Kingston Hospital.
Its Better Services Better Value report recommends "centralising essential and lifesaving services in order to improve quality and safety".
'Centralising services'
This would mean reducing the current four emergency departments to three with the fourth being replaced with an urgent care centre.
It also suggested cutting down obstetric units from four to three, though there could be "a stand-alone midwife-led unit".
A separate care centre for elective surgery and more services moved from hospitals to GP surgeries were the other recommendations.
Dr David Finch, local GP and joint medical director of the NHS Trust, said: "No decisions have been made and our recommendations will be subject to full public consultation.
"By centralising the most specialist services, we know we can improve their quality and safety."
Dr Howard Freeman, another joint medical director, said the report is "not about cutting services, but redesigning them".
Mr Martin, a spokesman for watchdog London Health Emergency, said: "Health officials have confirmed what we long suspected, that St Helier Hospital in the health minister [Paul Burstow's] own seat has been set up for closure despite all the garbage from David Cameron and others.
"We will continue to fight this cynical destruction of our local hospital."
The report comes after a recent study by NHS London found that only six out of 18 hospital trusts in London would be financially viable by 2014-15.
St Helier Hospital was not among the six.
The trust said the proposals would be implemented over the next five years if they are passed.