Riot-hit shopkeeper in giveaway to poor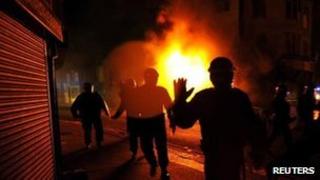 A shopkeeper who lost £200,000-worth of electronics during the London riots is to donate recovered goods to the elderly and the poor.
Seba Electronics in West Ealing was heavily looted during last August's disorder.
Police have since recovered some of the stolen electronics - and owner Bridj Sehgal, 80, said they would be checked then given away.
On Friday two men avoided prison after admitting their role in the theft.
Mr Sehgal said: "I don't have any suffering - I don't feel any tension and that's because I am a very relaxed person.
"We are back to normal and the people who did this have suffered the most.
"I am a very stress-free man - when God built me he forgot to put the stress in me."
Santos St John, 30, and Clive Owori, 24, were caught on camera escaping from the shop by car in the aftermath of the rampage.
The pair were due to stand trial accused of burglary - but the charge was left to lie on file after they admitted handling stolen goods.
On Friday St John, of Islington, and Owori, of Hackney, both received suspended jail terms at Wood Green Crown Court.
St John was given an eight-month sentence, suspended for 18 months.
Owori was sentenced to five months, suspended for the same period.
Both were given a four-month curfew from 18:00 to 03:00 daily.
'Poignant case'
They were ordered to do 200 hours of unpaid work and banned from driving for 12 months.
The pair avoided imprisonment because of time served on remand, the court heard.
Alison Wilkes, prosecuting, said: "This is a quite poignant case of the owner sitting across the road watching his store being cleared out."
St John has previous convictions for driving while disqualified, aggravated vehicle taking and drugs.
The court heard he was on medication for depression and anxiety following his grandmother's death.
He claimed the electronics found in his car were taken from the pavement outside the store.
Defence barrister Veronica Reeve described the crime as "opportunistic".
Judge James Patrick responded: "Opportunistic on the fourth day. They were well up to it."
Owori's barrister, Scott Brady, said Owori was of good character and acted in a "moment of madness".
He has one caution on his record, although the court was not told what it was for.