Cutty Sark in Greenwich to be reopened to the public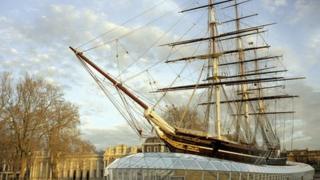 The restored 19th Century Cutty Sark ship is to be reopened to the public nearly five years after it was gutted by a fire.
The tea clipper sited in Greenwich, south-east London, will allow people on board from 26 April.
In December the masts were raised for the first time since the fire in May 2007.
An industrial vacuum cleaner which was left switched on led to the fire, which caused damage estimated at £10m.
At the time, the 143-year-old ship had been in the middle of a conservation project, because sea salt had accelerated the corrosion of its iron framework.
Therefore much of it had already been removed and put into storage.
"Thanks to heroic firefighting, there was amazingly little damage to the ship's original fabric," a spokesman for the Cutty Sark Trust said.
In total, the restoration has cost more than £50m
The Cutty Sark left London on its maiden voyage on 16 February 1870, sailing around The Cape of Good Hope to Shanghai in three-and-a-half months.
It made eight journeys to China as part of the tea trade until steam ships replaced sail on the high seas.
The ship was later used for training naval cadets during World War II, and in 1951 was moored in London for the Festival of Britain.
Since then, the clipper has been berthed in Falmouth and Greenhithe, finally arriving at its current resting place in Greenwich in 1954.