London Mayor defends driverless Tubes after boy's fall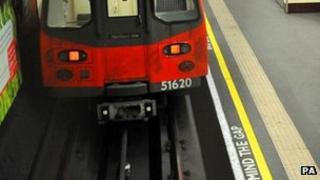 Mayor of London Boris Johnson has defended his vision of driverless Tube trains, after a five-year-old boy fell between a platform and train.
The boy escaped without injury at Finchley Road Station on Sunday when a driver spotted a small hand reaching up from the track.
The automatic devices had indicated it was safe for the train to depart.
It led drivers' union, Aslef, to step up its opposition to the introduction of driverless trains in London.
But speaking to BBC London, Mr Johnson said there was a "misnomer going on" and that just because the trains will be without drivers, they will not be unstaffed.
He said the the purpose of driverless trains was to "liberate London Underground staff from sitting in the cabs driving the train to doing other things on board".
He added: "We are determined to achieve an automated system up there with the Asian economies."
The young boy escaped without injury in the incident at Finchley Road station on Sunday.
Aslef said the mayor was wrong to pursue a policy which could threaten people's safety.
In a report last year Transport for London said the new generation of Tube train being developed for the Bakerloo, Piccadilly and Central lines, to be introduced in the 2020s, "could dramatically change the train staff operating model".