Row after boy survives London Underground fall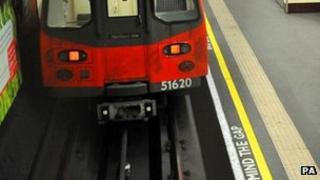 A five-year-old boy escaped unharmed after falling between a Tube train and a platform, it has emerged.
The driver spotted a small hand reaching up from the Finchley Road Station on Sunday evening, drivers' union Aslef said.
The child was rescued and his family were able to continue their journey.
Aslef said it highlighted the danger of plans for driverless trains but London Underground said it would handle all incidents "safely and efficiently".
Aslef General Secretary Mick Whelan said: "The driver, on a final visual safety check, saw a tiny hand reaching up from the track - the train remained in position and a young life was saved.
"Mayor Boris Johnson has been playing politics with the issue of driverless trains.
"How many votes are a young child's life worth?"
He added: "On Sunday all the automatic devices showed the platform was clear.
"Only a driver could have averted a potential tragedy.
'Safe conclusion'
"Boris Johnson is wrong to continue to push his policy for driverless Tube trains when it can threaten the lives of London's travelling public."
London Underground's network services director Nigel Holness said: "In this case our staff followed their established safety procedures to bring the incident to a safe conclusion and without injury.
"The whole design and operation of the network would be different with driverless trains and therefore we cannot compare the two.
"Many incidents on the network are, and will always be, customer-related and we will of course always provide fully for handling those safely and efficiently."