Second missing London charity egg recovered by police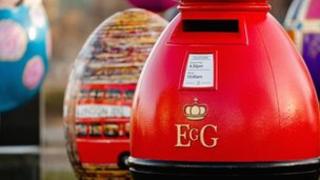 A second giant fibreglass egg that went missing while on display in London has been recovered by police.
Action for Children and Elephant Family said two of the 200 eggs exhibited for a charity egg hunt, were reported missing early on 24 February.
Police found one, titled Hatch, on Sunday and the other, the Egg Letter Box, was was recovered by officers on Tuesday.
The Big Egg Hunt is aiming to raise £2m for the two charities.
The egg found on Sunday was decorated by artist Natasha Law and had been taken from New Bond Street.
No arrests
The Egg Letter Box, by designer Benjamin Shine, was taken from Carnaby Street and recovered in the Charing Cross area.
No arrests have been made.
The organisers of the hunt said they would deploy extra security for the remaining 2ft 6in (74cm) eggs that are spread across London and designed by celebrities, including film director Sir Ridley Scott.
Thirty of the eggs are due to be auctioned on 20 March.