Livingstone pledges to restore Education Maintenance Allowance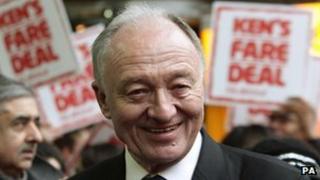 Labour's London mayoral candidate Ken Livingstone has said he will reinstate the Education Maintenance Allowance (EMA) in the capital if he is elected.
The EMA was given to eligible students and those in unpaid work but it was scrapped by the government in 2010.
Mr Livingstone has pledged to restore the payment, of up to £30-a-week, if he becomes mayor in the May elections.
A spokesman for Tory candidate and current mayor Boris Johnson said the pledge was "un-costed" and "un-funded".
Mr Livingstone said he would fund the London-wide EMA by bringing together existing funds in colleges, universities, and local authorities, and working with the Association of Colleges, London Higher and local councils.
The former mayor has also pledged to cut transport fares by 7%.
He said: "Applying the principles of fairness that led to our fares cut plan, I want to help young Londoners with their education by easing the squeeze the Tory-led government has imposed on them, and which the Tory Mayor has totally ignored.
"I have been deeply struck by the plight of thousands of students I have met at colleges right across the capital, who have had the lifeline that EMA offered snatched away from them by the Conservative party, whilst the part-time Tory Mayor stood by."
But a spokesman for Mr Johnson said: "Ken Livingstone is at it again, making yet another un-costed, un-funded promise.
"He has already been forced to admit that if London's councils don't stump up the cash City Hall will have to.
"This means raising City Hall's council tax which, given Mr Livingstone's record of raising it by 152% while mayor costing the average London household £964, must be his plan."
Liberal Democrats mayoral candidate Brian Paddick said: "Ken Livingstone's proposal speaks of getting London councils to help fund it, but how many have agreed to do this?
"And what happens to people in boroughs which won't help in funding the proposal?"
The Green Party's mayoral candidate Jenny Jones said: "Restoring the EMA sounds like a good plan, if the money really can be found.
"Just like Ken, I have no problem borrowing other people's ideas when they're good ones."