Fall victim's skull repaired using stomach fat injections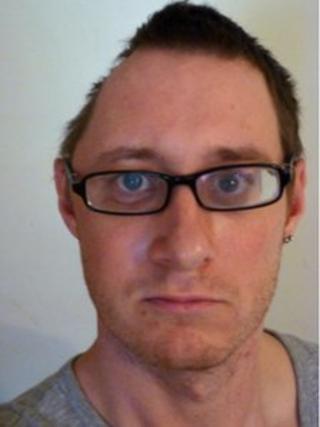 A man whose skull was partly removed after he fell from a drainpipe has had his head reshaped using stomach fat.
Tim Barter, 32, from Brixton, awoke from a coma 10 days after his 25ft fall with a brain haemorrhage, shattered eye socket, and part of his skull removed.
King's College Hospital surgeons used body fat to repair his temple in the first procedure of its kind in Britain.
Mr Barter, a visual effects supervisor, said: "I'm making the most of everything now where I didn't before."
In June 2009, Mr Barter, who has regularly worked on the BBC's Doctor Who, locked himself out of his house and decided to climb up to an upstairs window to gain entry.
But the drainpipe collapsed beneath him, causing him to plunge to the ground.
He said he had no recollection of the fall but believes he must have landed face-first.
Mr Barter was discovered unconscious by his neighbours and taken to the major trauma centre at King's College Hospital, where part of his skull was removed to cope with the bleeding and swelling on his brain.
"Life stopped for a number of months. I couldn't work and I had double vision," he said.
A custom-made titanium plate was fixed to replace the piece of removed skull.
The plate was developed at King's using computer technology to make it mirror the other side of his head.
Meanwhile, the fat from his stomach was injected into his temple to fill out the concavity that had appeared through the slump of inactive muscle.
Robert Bentley, director of trauma at King's, said: "Tim highlights an area of expertise that I've developed here at King's over the last nine years in which we have inserted over 250 such prostheses."
Since his fall, far from fearing heights, Mr Barter developed a love for skydiving.
"I love the falling. It's just the split second at the end that's an occasional problem."
Following his recovery, which lasted for two years, he has been wall climbing, kayaking and going to the gym "to get a decent physique".
"I can't put anything off any more I'm doing what I've always put on my list," he said.