Diamond Jubilee: Golden Hinde repaired for pageant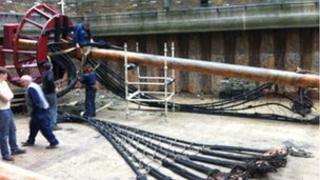 Repairs have started on the replica of Sir Francis Drake's warship in preparation for it to join the Diamond Jubilee River Thames flotilla.
The Golden Hinde, docked in south-east London, has not been sailed since 2003 and the 3 June outing will be its last on the Thames, said the Golden Hinde Trust manager.
Up to 1,000 vessels will take part in the Jubilee Pageant.
The ship's masts and crow's nests have been removed and repaired in advance.
'Began Golden era'
The ship, at St Mary Overie Dock in Southwark, is a full-sized reconstruction of the vessel which Sir Francis Drake used when he became the first Englishman to circumnavigate the globe, in 1580.
It was launched in Devon in 1973 and has sailed once around the world and 11 times around England.
Troy Richards, Golden Hinde Trust manager, who will be in board on 3 June, said commuters stopped to take pictures earlier when a 92ft (28m) mast was removed and winched high in the air.
He said: "There's no other ship in the world like the Golden Hinde.
"It heralded the beginning of England's Golden Age, the beginning of Elizabeth I's reign.
"And it was the country's first maritime museum."
He added that before Drake's historic journey, France, Portugal and Spain had been the dominating powers at sea.
Riggers from Russia, the US and Dorset are volunteering to help with the repairs.
The work will cost £120,000 funded by public donations.
Work should be finished by the end of March.
The ship will be moved from its dock onto the Thames between 5 and 9 May when it is high tide.
The volunteers who help restore the vessel will earn places on board for the Thames Diamond Jubilee Pageant.
The Pageant route is approximately 7 miles (11 kilometres) long.