£1bn Crossrail trains contract race open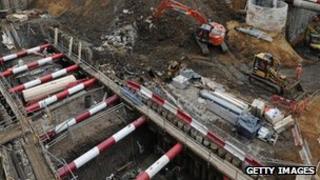 The government has opened competition for the £1bn contract to supply Crossrail trains.
The Derby-based Bombardier factory is up against German company Siemens, CAF of Spain and Hitachi of Japan.
The opening of the bidding process follows a controversial decision to give the £1.6bn contract for Thameslink trains to Siemens.
Bombardier, which lost out on that contract last year, then announced 1,400 job losses.
Transport Secretary Justine Greening said she was "keen to understand and communicate the benefit of this contract to the UK economy".
Announcing the tendering of the contract, she said: "This is an important step in making Crossrail a reality for millions of passengers who will use it every week.
"Once these 60 trains are operational, they will carry an additional 1.5 million people, help the growth of the UK economy and create opportunities for new apprenticeships and jobs."
She continued: "A number of outcomes from the government's review of public procurement have been reflected in this procurement, which could bring opportunities to UK businesses.
"This includes a 'responsible procurement' requirement that means bidders will need to set out how they will provide opportunities for training, apprenticeships and for small and medium-size businesses."
Labour's Shadow Transport Secretary Maria Eagle said: "It is vital that major public procurement such as this is used to provide a boost to British jobs and growth, particularly at a time of rising unemployment.
Thameslink 'fiasco'
"Today's decision proves that Labour has been right all along to argue that the government could have restarted the Thameslink procurement to include a requirement for local jobs and training."
Bob Crow, leader of the RMT transport union, said: "We will be monitoring the Crossrail process closely for any repeat of the Thameslink fiasco.
"We expect engineering excellence and socio-economic factors to be top of the tendering criteria to give Bombardier a proper chance this time around, unlike the loaded Thameslink scandal."