Met Police lent Sun editor Rebekah Brooks a horse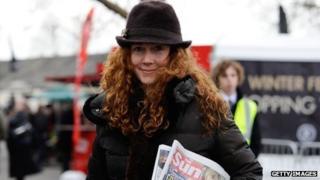 Former editor of The Sun Rebekah Brooks was lent a horse by the Metropolitan Police, it has been revealed.
The journalist, who remains on bail on suspicion of phone hacking and corruption, was lent the retired police horse in 2008, the Met said.
Mrs Brooks paid for food and vet bills until it was rehoused with a police officer in 2010.
The loan emerged as inquiries continue into the relationship between News International and the Met.
The Leveson Inquiry has been told the relationship between The Sun's parent company and the force was "at best inappropriately close and at worst corrupt".
Riding enthusiast
On Monday it heard that police told Mrs Brooks they had found evidence of more than £1m in payments by News International during the investigation.
The hearing also heard that police told her in 2006 its phone-hacking inquiry would not extend beyond a sole News of the World reporter.
As news of the horse loan emerged, a Met spokesman said: "When a police horse reaches the end of its working life, mounted branch officers find it a suitable retirement home.
"Whilst responsibility for feeding the animal and paying vet bills passes to the person entrusted to its care at its new home, the horse remains the property of the Metropolitan Police Service."
He continued: "Retired police horses are not sold on and can be returned to the care of the MPS at any time.
"In 2008 a retired MPS horse was loaned to Rebekah Brooks.
"The horse was subsequently re-housed with a police officer in 2010."
The horse, named Raisa, was 22 when it was lent to Mrs Brooks.
The Met said that when it was aged 24 she asked them to take it back, as it was no longer being ridden.
It died later that year.
Dave Wilson, Mrs Brooks' spokesman, said: "It's well known by people in the horse world that the Met looks for homes for horses once they retire.
"Rebekah took on a horse and effectively acted as a foster parent for it for a year or so.
"It's just a way of giving a temporary home to a horse that has had a distinguished service in the Met."
He added: "It went off to a retirement paddock in Norfolk once it couldn't be ridden any more."
Mrs Brooks, 43, is a known riding enthusiast and is married to racehorse trainer Charlie Brooks.
She was editor of The Sun from 2003 to 2009 and then chief executive of News International until she resigned during the phone hacking scandal last July.
The BBC understands that the horse has since died of natural causes.