London 2012: Team GB Olympic & Paralympic supporters' scarf launched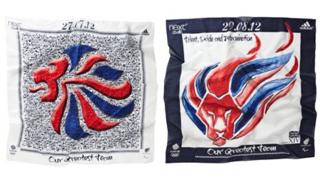 Supporters' scarves for this summer's Olympic and Paralympic Games have been launched by the British Olympic and Paralympic Associations.
The designs feature 900 figures, hearts and stars to represent the 900 athletes of Team GB and ParalympicsGB.
The scarves are the first of two official pieces of merchandise on which Games organisers Locog have waived the rights to royalties.
All profits will go to the BOA and BPA to fund athletes after London 2012.
The square shaped design also features national landmarks and 60 hands to symbolise 60 million supporters.
Each of the 26 Olympic sports is also represented, together with English roses, Welsh daffodils, Northern Irish flax and Scottish thistles - plus the date of the opening ceremony.
Olympic gold medal-winning rower Sir Steve Redgrave, silver medal-winning swimmer Sharron Davies and para-equestrian rider Lee Pearson unveiled the scarves in London on Monday evening.
There are separate motifs for the Olympic and Paralympic Games on each scarf, which are designed to be worn around the neck, on the head as a bandana or carried and waved.
The official ParalympicsGB scarf features a lion motif to portray the courage, talent and determination of the athletes.
BOA chief executive Andy Hunt said: "We would love it to be a massive success. Here is an item you can take to show you have gone out and supported the team.
"Imagine being in the velodrome the other night if all the people there had a single item like this to wave."
Financial row
The move comes after abitter financial rowbetween Locog and the BOA after the association questioned how money from the Games would be calculated and divided.
In the resolution of the dispute Locog waived rights to royalties on two items of Team GB merchandise, of which the scarf is the first.
The BOA receives no government funding so must raise money from private sources, commercial partners and the general public.
However Mr Hunt insisted the BOA's financial future was not dependent on the success of the scarf because they had spread their fundraising activities across a number of areas.
Sending Team GB to the Olympic Games will cost approximately £13m which includes funding for 550 athletes, 450 support staff and 300 volunteers.
The BOA said it already has the resources in place to pay for the team's appearance at London 2012 and any profits will go towards helping British athletes deliver performances beyond that.
The 100% cotton scarves come in 90cm and 50cm sizes, costing £10 and £5 respectively, and will be made in India.