Giant Olympic rings launched on the Thames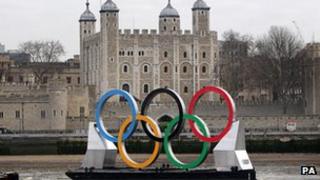 Giant Olympic rings have been launched on to the River Thames to mark 150 days until the start of the London Games.
The rings are travelling on a barge passing key landmarks including Tower Bridge and Canary Wharf.
The journey started at London Bridge instead of Battersea Bridge as planned due to "tidal flows".
Mayor Boris Johnson has announced free events for every borough during the Games.
The events will include a floating opera inspired by The Owl And The Pussycat to be staged on the city's canals and devised by Monty Python star Terry Jones.
The rings, standing at 11 metres (36ft) high and 25 metres (82ft) wide, are coloured on one side and have white LED (light-emitting diode) lights on the other. They cost more than £930,000.
Free tickets
Other cultural plans announced on Tuesday included a large-scale interactive public artwork by Jeremy Deller, to appear at locations across the capital, and the creation of the London Pleasure Gardens at Pontoon Dock, east London.
Ruth Mackenzie, director of the London 2012 Festival, said: "London and the UK's creative industries are world-beating and the London 2012 Festival will show them off to the world.
"With millions of free tickets and opportunities to take part, Londoners and tourists will truly have a summer like no other, thanks to the partnership between the mayor's office and London 2012 Festival."
The Rings on the River are to go into storage until the start of the Olympics, when they will again appear on the Thames.