Baby P's father sues The People for libel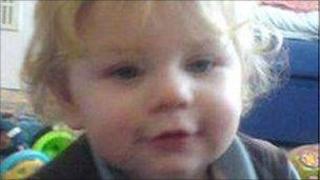 The natural father of Baby Peter is suing the publishers of a Sunday newspaper for £130,000 for printing "one of the gravest libels imaginable".
A High Court judge was told the father, who cannot be named, was wrongly accused in The People of being a sex offender convicted of raping a 14-year-old girl.
Newspaper publishers MGN Ltd later apologised and offered to pay damages.
The offer was not enough to compensate the father, said QC James Dingemans.
The allegations were contained in two paragraphs in a crime supplement about Peter's mother, who had separated from Peter's father, referred to as "KC".
They appeared in The People on 19 September 2010 in an article entitled "Tortured to death as mum turned a blind eye".
'Shocking and appalling'
Peter, later named as Peter Connelly, was just 17 months old when he was found dead at his mother's home in Tottenham, north London, in August 2007. He had more than 50 injuries.
Tracey Connelly was jailed in 2009 after admitting causing or allowing his death.
Her boyfriend Steven Barker and their lodger, Jason Owens, who was Barker's brother, were found guilty at the Old Bailey of the same charge.
Mr Dingemans said the allegations about the natural father in the wake of the tragedy were "shocking and appalling".
However MGN treated him "as if he didn't really matter".
Heather Rogers QC, appearing for MGN, told the court: "This was a mistake MGN regrets and it has apologised to the claimant, and I repeat that apology on its behalf in this court."
However, she denied KC had been badly treated, or that MGN had conducted any kind of "campaign" against him, or dismissed his legitimate complaint.
In a statement before the court, KC said: "I was shocked and upset beyond words.
"I thought the whole world would think that I was a really awful man. I could not believe that such an appalling, untrue statement had been published about me to the whole country.
"I feel the defendant's whole approach has been to pretend I do not exist, because they did not contact me about the story, to treat me and correspondence on my behalf as an annoyance as not worth their time, and to belittle me and my feelings."
Mr Dingemans said of KC: "He is a man of good character, with no previous convictions living with the fall-out (of Peter's death) day-by-day, and never a sex offender - never guilty of rape."
The rape conviction had been imposed on Peter's maternal grandfather, the QC told Mr Justice Bean.