One 'missing' London charity egg found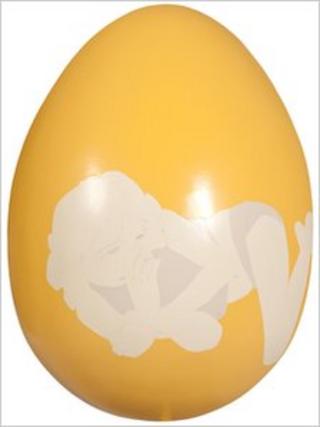 One of two giant fibreglass eggs which went missing while on display in London has been recovered by police.
Action for Children and Elephant Family said the eggs, two of 200 on display for a charity egg hunt, were reported missing early on Saturday.
Police found the egg by artist Natasha Law, titled Hatch, at an address in Maida Vale after two people had been seen taking it from New Bond Street.
The Egg Letter Box, by designer Benjamin Shine, is still missing.
A Metropolitan Police spokesman said a member of the public called police early on Saturday to report two men removing an ornamental egg from New Bond Street and driving away in a car.
"Later the same day officers attended an address in the W9 area and recovered the ornamental egg," he said.
"There has been no arrest at present."
The Big Egg Hunt said it discovered the egg by Mr Shine was missing from its location in Carnaby Street after receiving a call from a member of the public.
It was one of 30 due which were due to be auctioned on 20 March.
In a statement designer Benjamin Shine said: "I'm extremely disappointed thieves selfishly stole a piece created to raise vital funds for two very worthwhile charities.
"The ideal situation would see it returned as soon as possible to the exhibition, prior to the auction."
The organisers of the hunt said they would deploy extra security for the remaining 2ft 6in (74cm) eggs that are spread across London and designed by celebrities, including film director Sir Ridley Scott.
The Big Egg Hunt is aiming to raise £2m for charities Action for Children and Elephant Family.