Heathrow Express strike: RMT union members walk out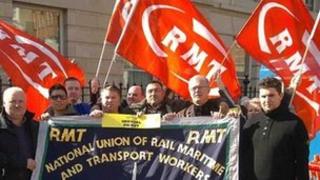 Heathrow Express rail services face disruption after drivers and other staff went on strike.
Members of the Rail, Maritime and Transport (RMT) union walked out for 24 hours, from 12:15 GMT on Sunday.
The dispute, involving up to 250 staff, follows the sacking of a driver and the suspension of a union representative.
Heathrow Express, which is running an amended service, said it was disappointed the strike was going ahead and apologised to passengers.
It said the suspended employee had returned to work and the driver was dismissed fairly.
The union has set up a picket line outside the entrance of Paddington station.
A second 24-hour stoppage is due to start from the same time on 11 March, while union members will not work any extra hours over the weekend of 3-4 March.
The RMT said the action was in support of sacked driver Zahid Majid and the suspension of Liaqat Ali.
Mr Majid was dismissed after a minor error, for which he took full responsibility, the union claimed.
In the case of Mr Ali, the RMT said he was subjected to "unfounded, spurious and discriminatory allegations".
'No dispute'
The union's general secretary Bob Crow said: "The unfair and disproportionate punishment taken by management in both these cases is a total miscarriage of justice.
"Our members are rock solid in their support for the strike and their colleagues and the management should get the message and start talking."
A spokeswoman for Heathrow Express said the union was striking over an issue "which is no longer under dispute".
"The ballot centres around the suspension of one member of staff and the dismissal of another," she said.
"The suspended employee has already returned to work and the dismissal - which was conducted via a policy agreed with the union - has since been withdrawn from employment tribunal."