Two decorated eggs on show in London 'missing'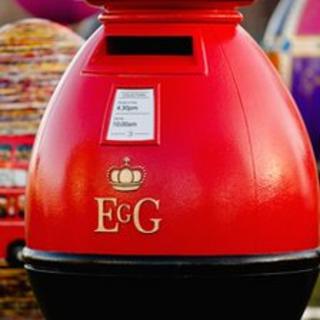 Two decorated fibreglass eggs that went on display earlier this week to raise money for charity have gone missing.
Action for Children and Elephant Family said the eggs, two of 200 in London, were reported missing on Saturday.
One was the Egg Letter Box by designer Benjamin Shine, which was on Carnaby Street, and the other, Hatch, was designed by artist Natasha Law.
Police said they had received a report about two men removing an ornamental egg from New Bond Street.
The 2ft 6in (74cm) eggs have been designed by celebrities, including film director Sir Ridley Scott.
People were asked to text a dedicated number when they spotted one of the colourful pieces as part of the Faberge Big Egg Hunt, which aims to raise £2m for charities Action for Children and Elephant Family.
'Extra security'
A statement from The Big Egg Hunt said: "We are all devastated. Benjamin's post box egg was already a firm favourite with children and families taking part in the hunt.
"We will be putting on extra security for all the eggs, and ensuring that they are safe, so people can continue to enjoy them and take part in the hunt."
The charities have appealed for the eggs to be returned and said the Egg Letter Box was among 30 eggs which were due to be auctioned on 20 March.
A spokesman for the Metropolitan Police said the Carnaby Street egg had not been reported to them but a member of the public had reported another egg being taken away.
"Police were contacted at 02:20 GMT on Saturday 25 February by a member of the public who had seen an Ornamental Egg taken from outside 159 New Bond Street W1," he said.
"He had seen two men remove the item and place it in a car which then drove away."
The Big Egg Hunt is due to end in April.