Designer critical of fashion chain's jewellery similarities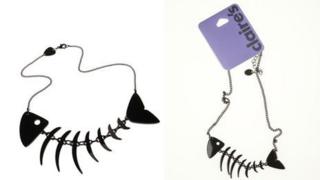 An independent jewellery maker based in London has hit out at a high street fashion chain over its apparently identical range of necklaces.
Tatty Devine created Perspex necklaces in the shape of a dinosaur, fish, moustache, glasses and a banana.
The designer has now put images of similar jewellery sold by Claire's Accessories on its blog, asking: "Can you spot the difference?"
Claire's Accessories said it was investigating.
Meanwhile Tatty Devine, based in Brick Lane, east London, said it was consulting lawyers with a view to taking legal action.
Tatty Devine designer Rosie Wolfenden said: "We're really proud of what we've created with Tatty Devine, and a big part of that is our original designs.
"It's flattering when people like something you've created, but this kind of thing can't be tolerated."
Hind Hadj, head of European Marketing and Public Relations at Claire's Accessories, said: "Claire's is aware of the blog post yesterday on the tattydevine.com blog and is currently investigating these comments."