Thusha Kamaleswaran trial paused over 'intimidation' fears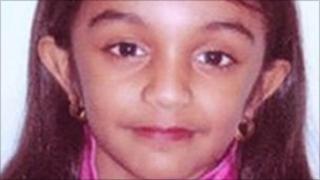 An Old Bailey judge has temporarily halted a trial to reassure jurors after claims of intimidation.
The panel trying the case of three men accused of shooting five-year-old girl Thusha Kamaleswaran had raised concerns with Judge Martin Stephens QC.
Jurors were asked to continue in the "demanding case" and told the incident "cannot be connected" with defendants.
Kazeem Kolawole, 19, Anthony McCalla, 19, and Nathaniel Grant, 21, deny grievous bodily harm with intent.
The three men are also accused of the attempted murder of another man, Roshaun Bryan, and possession of a firearm with intent. They deny all the charges.
'Immediate steps'
Details of the alleged intimidation were given in a note which was not read out in open court.
The judge asked the jury to "monitor the situation carefully and please report any further matter which causes you any concern immediately and steps will be taken".
He said while the panel were "not unduly concerned" by what had happened, if any further incidents were raised he would bar the public from the remainder of the trial.
Judge Stephens said if there were further reports: "I shall want immediate steps to be taken starting with the arrest of anyone suspected of such conduct."
"And if necessary I shall order that the public gallery will be closed for the rest of the trial and no members of the public will be allowed into court," he added.
"That will be, I'm sure, something which will cause great pain and unhappiness to some people who are entirely innocent."
'Can't communicate'
The judge stressed any event could not be taken to reflect badly on the three defendants.
He said any incident "cannot be connected in any way with these defendants and does not in any way reflect adversely on any of them".
"The fact is that you can see they are all in custody and can't communicate with anyone outside.
"So whatever has happened you must not hold them responsible."
Thusha was hit by gunfire as she was playing in her uncle's shop.
A shopper, Roshan Selvakumar, 35, was also shot during the incident at Stockwell Food and Wine shop in south London on 29 March, 2011.
The case continues.