Christian loses employment tribunal over Sunday working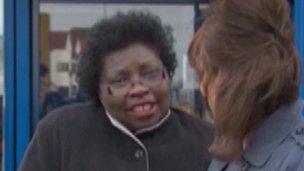 A Christian woman who claimed she was forced to leave her job because she was made to work on Sundays, has lost her case against Merton Council.
An employment tribunal ruled that Celestina Mba, 57, was not constructively dismissed from her job in 2010.
Miss Mba, from south London, worked helping children with severe learning difficulties.
The council said it had a duty to ensure children had weekend care.
Ms Mba worked for Merton Council at Brightwell Respite Care House in Morden for three years.
She told the tribunal she was prepared to work night-time and Saturday shifts, or to have accepted less pay, to be able to observe Sunday as a day of rest.
She said she had told her employer she had "difficulties" working on Sundays before she was employed, but did not specify they were religious.
The tribunal in Croydon found there were no viable alternatives to requiring Miss Mba to work Sundays.
Merton Council director of children schools and families, Yvette Stanley, said: "As a local authority, we have a duty to ensure our children with disabilities who need weekend care are supported by carers who are familiar with their specific needs."
Miss Mba said: "I am amazed by this decision.
"I thought that this country was a Christian country.
"I worked hard for years at my job, and to lose it because of intolerance towards my faith is shocking to me."
In 2003, quarry worker Stephen Copsey also lost a claim of constructive dismissal on religious grounds for being required to regularly work on Sundays.
Related Internet Links
The BBC is not responsible for the content of external sites.