Baby Peter social workers made 'serious errors'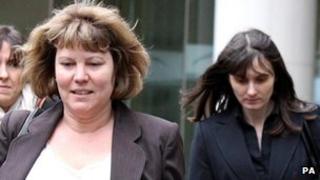 Two of Baby Peter's social workers are said to have committed a "serious error of judgement" during an incident which saw him "disappear" for 12 days.
Gillie Christou and Maria Ward are challenging an employment tribunal ruling that they were fairly sacked.
Peter Connelly died in 2007 after he was abused. His mother Tracey was jailed in 2009 over his death.
The tribunal heard the Haringey Council workers accepted Connelly's word that she was looking after a sick uncle.
She claimed she visited the relative at Cricklewood, north-west London, despite being told to return home.
Bruce Carr QC, acting for the council, their former employer, said: "Peter Connelly disappeared off the radar for 12 days.
"Maria Ward and Gillie Christou accepted the mother's word that she was looking after a sick uncle in Cricklewood and that was a serious error of judgement."
'Media storm'
He added: "One cannot say that the Cricklewood episode did in fact lead to the death of Peter Connelly but one can say it was a missed opportunity."
Ms Ward and Mrs Christou are seeking to overturn a 2010 Watford employment tribunal ruling that they were fairly sacked by Haringey Council.
Richard O'Dair, acting for the pair, argued that they suffered "double jeopardy" because they faced two Haringey misconduct panels nearly two years apart looking at the same allegations.
The first hearing led to written warnings, but they were fired after the second hearing.
Mr O'Dair said: "By the time the subsequent proceedings kicked off, memories had faded and that was a disadvantage to the claimants to be asked about events and matters and steps you have taken if your memory has faded.
"The second point is the significant adverse consequence of the delay is that the proceedings took place after what has been called a media storm."
Peter was 17 months old when he died on August 3 2007.
He was found dead in a blood-stained cot with more than 50 injuries, despite being on the at-risk register and receiving 60 visits from social workers, police and health professionals over eight months.
His mother Tracey Connelly was jailed in 2009 after admitting causing or allowing his death.
Her boyfriend Steven Barker and their lodger, Jason Owens, were found guilty at the Old Bailey of the same charge.
Ms Ward was Peter's nominated social worker at Haringey Council from February 2007 until his death and Mrs Christou was her team manager.
Fortnightly checks
The pair were sacked after an investigation which discovered there was a period in mid-2007 when they did not know where the child was.
Ms Ward was also found to have failed to meet a requirement to see him at least once a fortnight.
In May 2010, a General Social Care Council disciplinary committee suspended Ms Ward for two months and Mrs Christou for four months - on top of a 16-month interim suspension ahead of the hearing - for their misconduct in the case.
They admitted failing to ensure Peter was visited regularly enough, not keeping adequate records and losing contact with him for a time.