Croydon furniture shop fire accused 'asked for lighter'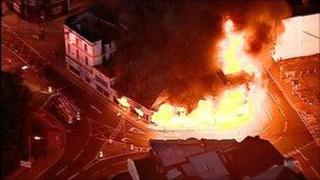 A man accused of starting a fire that destroyed a Croydon furniture store during the riots asked other looters to give him a lighter, a jury has heard.
Gordon Thompson, 33, is charged with setting a sofa alight at House of Reeves, south London, on 8 August.
The prosecution said that Mr Thompson, who denies the charges, watched as others smashed a window and was one of the first into the building.
He allegedly stole a laptop, and as he left asked around for a lighter.
'Forced to flee'
Prosecutor Oliver Glasgow told the jury at the Old Bailey: "On leaving the store, he asked another of the rioters for a lighter and, as soon as he was given one, went back to the shop and set fire to a sofa inside the shattered window.
"The ensuing fire razed the building to the ground.
"Such was the ferocity of the blaze that embers and heat from the flames set fire to property on the other side of the road and numerous residents were forced to flee their homes for their lives.
"Indeed one young woman became trapped inside her flat and was forced to jump from a first-floor window into the arms of rescuers waiting below."
The court heard that Thompson has admitted burglary of two shops in Croydon - Iceland and House of Fraser - but denies any involvement in the attack on 150-year-old Reeves.
He is on trial for violent disorder, burglary of Reeves, arson with intent to endanger life and arson being reckless as to whether life was endangered, all on 8 August last year.
The court was told that Thompson, of Waddon Road, Croydon, "ran riot through the streets" that day.
Mr Glasgow told jurors: "What you are concerned with are two separate matters.
"First, you need to consider the general conduct of this defendant, and the mob with whom he was associating, as he roamed lawlessly around Croydon looting and vandalising shops and frightening those who were powerless to stop him.
Trapped by flames
"Secondly, you need to consider his specific conduct in relation to the furniture store, which he broke into, stole from and finally destroyed in a callous and vindictive act which endangered the lives of countless people."
The heat from the fire was so intense that tram lines in the road caught fire, the court heard.
Jurors were shown an image of local resident Monika Konczyk throwing herself from the building where she lived after becoming trapped by flames.
Her flat overlooked the House of Reeves.
She and another eyewitness, painter and decorator Craig Street, managed to film parts of what happened.
The prosecution will also use CCTV footage of a man they say is the defendant entering and leaving Reeves, and setting fire to the sofa.
Mr Street claimed he heard the defendant say "let's burn the place", jurors were told, before asking around for a lighter.
The trial continues.