Greenpeace activists scale National Gallery's roof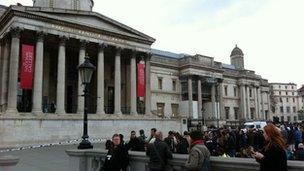 Up to eight activists from environmental protest group Greenpeace climbed on to the roof of the National Gallery in London.
The campaigners said they were protesting against oil firm Shell's plans to drill for oil in the Arctic.
They unfurled a 40m (131ft) long banner from the roof bearing the picture of an oil rig and reading 'It's No Oil Painting'.
Scotland Yard said the protesters came down from the building at 20:15 GMT.
Verity Wilde said she could see six of the protesters on the roof and two were suspended on ropes on the sides of the building.
The protesters said they had targeted the gallery as Shell is hosting an event there.
One of the protesters, Hannah Davey, said: "We're here to tell Shell, and their guests, that oil companies have to keep out of the Arctic.
"The region is too fragile to risk an oil spill that experts say would be almost impossible to clean up."
Related Internet Links
The BBC is not responsible for the content of external sites.