Forest Hill shooting: Police hit man three times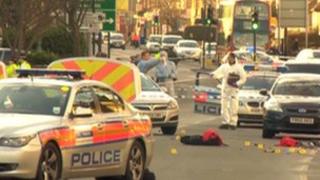 A man shot by officers in south-east London was hit by three bullets, the Independent Police Complaints Commission (IPCC) has said.
The 25-year-old was hit by a Taser and officers then fired five times hitting the man in the stomach, leg and hand.
He was shot in Forest Hill, in the early hours of Sunday after he threatened officers with a "large bladed weapon".
He remains in a critical but stable condition in hospital.
Police were called at about 0540 GMT to reports of a man trying to break into a car in Elsinore Road.
When they approached him he threatened them with a weapon, police said.
Armed assistance was called and when the man approached the officers again he was shot with firearms and a Taser.
A Metropolitan Police spokesman said a number of knives were recovered from the scene.
IPCC Commissioner Mike Franklin said he had met with the man's family to update them about the investigation.
He added: "A young man remains in hospital but with help from eyewitnesses we can piece together bit-by-bit as much information as possible to form a clear sequence of events."