Week-long wait for London's new Routemaster bus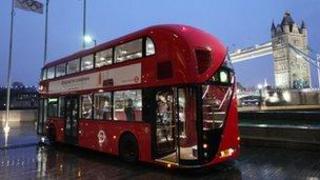 The new Routemaster bus for London has had its launch delayed for a week due to a paperwork delay.
It was meant to start operating on 20 February on route 38, between Victoria Station and Hackney.
It's not the first bump along the road for this long-awaited new bus.
Firstly, it got stranded on the M1 when it ran out of fuel on its way to London for its official unveiling. Disabled activists have also said they do not like the layout of the vehicle.
There have also been persistent concerns about its costs.
The combined cost of developing the new prototype Routemaster bus and a contract for just eight production models has set Transport for London (TfL) back £11.37m.
Having said all that, the reception from Londoners when it was finally unveiled in Trafalgar Square was largely positive.
Now there is a week's delay for its operational start as it didn't get its new vehicle certificate in time from the Department for Transport (DfT).
Full fanfare
It is an embarrassment for TfL and Boris Johnson, although the reality is these things do sometimes happen with new transport systems.
Don't forget, the mayor's cycle hire scheme initially opened to members only.
I'm told, though, the new bus will be in service on 27 February.
Mike Weston, operations director for London Buses, said: "The first new bus for London is set to enter full passenger service next week. The vehicle is currently taking part in final road tests.
"We originally hoped that the first bus would start taking passengers from this week, but this has been slightly delayed as a result of the certification process required for new vehicles taking a little longer than anticipated."
All eight prototypes will be in service by the summer.
Separately, you will notice a rash of transport announcements over the coming weeks as TfL's mayoral election purdah starts on 20 March.
After that the shutters come down and they are not allowed to promote transport projects which could be deemed to be biased towards a particular mayoral candidate.