Website lets London street violence victims report crimes online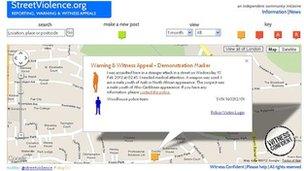 A website set up by a charity for crime victims is to allow the first online reporting to police of street robberies and assaults in London.
Witness Confident says its site, Streetviolence.org, will allow victims and witnesses to record incidents that residents can view on a Google map.
It also hopes the site will counter "misplaced fears" about crime.
The Met Police said it did not "endorse" the reporting of street crime online as it could delay an inquiry.
Witness Confident says the Met helped it develop the "scope, functions and regulatory clearance" of Streetviolence.org.
However, in a statement, the Met Police confirmed that while it had "expressed interest in some of its early proposed functions" it reached a formal decision this month that it "could not support the launch of the site in its current format".
It added it would "continue to monitor the development" of the site and was "open to exploring any initiatives to help reduce crime and catch criminals".
Information on crimes reported through Streetviolence.org will be sent directly to the neighbourhood policing team to investigate.
People who do not wish to formally report a crime can post information on the site anonymously. Witness Confident says it would get in touch on behalf of police "if and when [they] do want to get a message to you - say a witness has come forward or they think you have been one of a series of victims".
Witness Confident says its website "cuts the initial hassle and frustration that puts many victims off reporting the crime to begin with".
"As a way of telling the police you can help, the site is a welcome alternative to hanging behind at the scene, standing around at a police station or waiting in line at a call centre," said the charity's director Guy Dehn.
"This matters as there's little chance the police can make our streets safer if witnesses don't come forward," he added.
Mr Dehn told the BBC News website: "One of the things that has been lost in recent years is engagement with police... If you want to help police, this allows you to contact them 24/7 at the convenience of your computer."
Witness Confident cites official crime statistics for England and Wales in 2010-2011 that suggest more than half of street robberies and assaults are not reported to police. It also points out that the Met Police stopped using appeal boards for crimes other than murders or road traffic accidents in 2009.
It added that its site goes further than the Home Office crime-mapping website www.police.uk which does not distinguish stranger attacks from domestic or acquaintance violence and "can make people assume the risk to them of violent crime is worse than it is".
The Met Police website has a facility allowing "non-emergency crimes" such as thefts from a motor vehicle and criminal damage to be reported online. Complaints about hate crimes can also be made.
In a statement, the Met Police said: "We do not endorse the reporting of street crime through the MPS website or any other third party website.
"This is predominantly due to concerns over victim safety and the importance of deploying officers in person as quickly as possible to this scenes of serious street crime."
It added: "Street crime is taken very seriously by the MPS, and in order to reduce street crime and catch offenders, the MPS urges victims to contact police in the quickest way possible by calling 999 or speaking to an officer on patrol nearby."
Related Internet Links
The BBC is not responsible for the content of external sites.