Employment tribunal over Christian woman working Sunday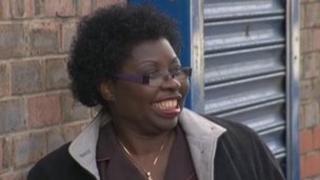 A devout Christian from south London has claimed she was forced to leave her job working for Merton Council after she was made to work on Sundays.
Celestina Mba, 57, argued that the council agreed to accommodate the requirements of her faith when she was offered her job.
She resigned from her role helping children with severe learning difficulties after three years.
Merton Council said it could not comment while the tribunal was ongoing.
Sundays 'difficult'
The tribunal began earlier in Croydon.
Miss Mba told BBC London that she notified Merton Council of the "difficulties" she would have working on Sundays at her interview.
She did not mention religious grounds, however.
She said: "The manager on the panel told me that they would work around it and on that basis when I was offered the job I took the job.
"They accommodated me for a while and then they started insisting that I do the Sundays."
She said her faith meant Sundays were days of rest and her colleagues had been happy to work around her.
She added that a Muslim colleague had been able to request Fridays off for worship.
"I enjoyed what I was doing. I enjoyed empowering the children and parents and I could do that from Monday to Saturday.
"I did not need to give up Sundays," she said.
A Merton Council spokeswoman said: "It is not appropriate for us to comment at this point in the proceedings."
In 2003, quarry worker Stephen Copsey lost his legal challenge against his former employer, claiming constructive dismissal on religious grounds for being made to regularly work on Sundays.