Battersea Dogs Home: 'Sensitive' Staffies need fostering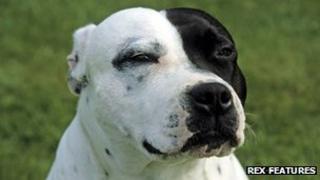 Foster carers are needed for "sensitive" Staffordshire bull terriers.
Battersea Dogs Home in London said it receives more dogs in March - often unwanted Christmas presents - and some animals need a break from the kennels.
These include Staffies which find life in a dogs home particularly stressful.
Older dogs and those recovering from illness also benefit from fostering, the home said.
Volunteer manager Carly Whyborn, said: "We are expecting this March to be very busy.
"As Staffies love being with people they often find kennel life stressful, so short-term fostering provides them with a much-needed break."
She said fostering can make dogs happier and more relaxed and make it easier for them to find permanent homes.
The home is running a campaign to help improve the image of the stigmatised bull terrier breed, which has the tagline "Staffies. They're softer than you think".
The kennels said while they are perceived as "rough and tough", in reality they are gentle and have an "affinity with children".