Tesco job advert protest closes store in Westminster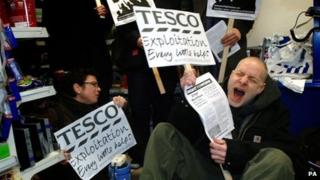 Police were called after about 12 protesters forced the closure of a Tesco store opposite the Houses of Parliament.
They sat down or stood by the tills at the Tesco Express branch at Portcullis House, Bridge Street, central London.
The demonstration was over a Jobcentre Plus advert which looked for permanent workers at a Suffolk store in exchange for expenses and jobseeker's allowance.
Tesco said the advert was a mistake due to an IT error and had been amended.
The Portcullis House store was closed for an hour. A Metropolitan Police spokesman said there had been no arrests.
Guaranteed job interview
The advert for a night-shift worker in Suffolk appeared on the Jobseekers' Plus website.
It was offered under the government's "sector-based work academy scheme" which is linked to the payment of benefits.
But the supermarket giant said the impression it was seeking to replace full-time workers was mistaken.
Tesco has explained that the advert was "a mistake caused by an IT error by Jobcentre Plus".
It was an advert for work experience with a guaranteed job interview at the end of it as part of a government-led work experience scheme.
Placements last for six weeks, the Department of Work and Pensions said.
A spokesman for the Right to Work protesters said: "Tesco reports that over the past four months some 1,400 people have worked for them without pay.
"Only 300 got a job with the company.
"The Tory government is slashing jobs and then punishing the jobless. And to add insult to injury, they are forcing people to work for free to boost profits for big business."
'Completely absurd'
A spokesman for Tesco said: "No-one is under any obligation to take part in the scheme, and Jobcentre Plus has assured us that all of those who have come to Tesco have done so as volunteers."
He added: "We understand the concern that those who stay in the scheme longer than a week risk losing their benefits if they drop out before the end of their placement.
"We have suggested to the Department for Work and Pensions (DWP) that, to avoid any misunderstanding about the voluntary nature of the scheme, this threat of losing benefit should be removed."
Minister for Employment Chris Grayling said: "Our work experience scheme is voluntary and thanks to companies like Tesco and many others has provided a route for literally thousands of young people to find their first job.
"The idea that providing work experience for unemployed young people is some kind of forced labour is utterly and completely absurd."
A DWP spokesman said: "The scheme is voluntary and no-one is forced to take part and the threat of losing the benefit only starts once a week has passed on the placement - this was designed to provide certainty to employers and the individuals taking part."