First Queen's Diamond Jubilee bell, Elizabeth, cast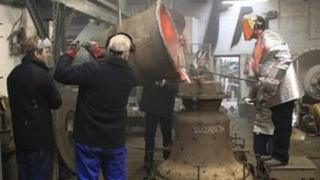 The first Royal Jubilee bell has been cast as part of the preparations for the Queen's Diamond Jubilee.
The bell, called Elizabeth, will play an important role in the Thames Diamond Jubilee Pageant on Sunday 3 June.
Elizabeth, which was donated by the Worshipful Company of Vintners and weighs half a ton, was cast at the Whitechapel Bell Foundry in east London.
It is the largest of eight bells making up the Royal Jubilee Bells.
The bells will be rung from a floating belfry, the first vessel in the pageant.
The other bells will each be named after senior members of the Royal Family - Philip, Charles, Anne, Andrew, Edward, William and Henry.
The remaining bells are being made over the next six weeks.
'Remarkable sight'
The Belfry Barge will lead a flotilla of up to 1,000 boats as it makes its way to Tower Bridge from Battersea Bridge.
Eight change ringers, members of the Ancient Society of College Youths, will form the Royal Jubilee Bellringers.
They will ring a quarter peal, with churches along the route and around the country providing an answering peal.
Following their role in the pageant, the Royal Jubilee Bells will find their home at the Church of St James Garlickhythe in the City of London.
Captain of the Royal Jubilee Bellringers and chief bellringer Dickon Love said: "It is certainly an unprecedented challenge - a tower with a ring of bells has never been erected on a boat before.
"It should be an amazing sound, not to mention a remarkable sight."