Westminster Council cuts Hyde Park concert numbers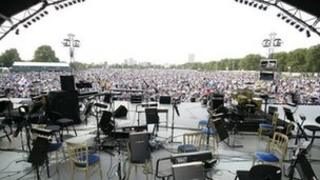 The number of concerts held at Hyde Park has been cut from 13 a year to nine after complaints from residents.
Westminster Council has also decided to reduce the number of people who can attend the events, from 80,000 to 65,000, and in some cases to 50,000.
The changes come into effect next year. Hyde Park's licence to host events came under review after complaints about noise almost doubled since 2008.
A residents' group has criticised the council for not cutting decibel levels.
Mike Dunn, vice-chairman of Mayfair Residents' Association, said he felt the council's restrictions did not go far enough and did not address the problem of noise from the concerts.
He said: "We were looking for a reduction to six and there hasn't been a reduction in the decibel levels that we were looking for.
"But we have received some additional conditions to improve the lot of residents."
Last year residents made 130 complaints, about twice the number made in 2010. Local residents said they wanted noise levels to be cut from 75 to 73 decibels.
'Balancing needs'
Some of the measures agreed at the council meeting will come into effect immediately, including trials of a new noise-reduction system along with the monitoring of sound levels.
Music with a repetitive bass beat would be subject to reassessment, the licensing sub-committee said.
The staging of live Olympics screenings and concerts planned for 2012 were not included in the review and the council agreed that an 18-day series of concerts will be held in the park to celebrate the Games and events related to the Queen's Jubilee.
Hyde Park is managed by the Royal Parks, which previously said restrictions could leave it with a £1.5m funding gap.
But the Royal Parks, the Environmental Health service and organisers have agreed to the changes.
Councillor Audrey Lewis, Westminster Council's Licensing chairman, said: "We have a duty to balance the needs of local residents with the desire of concert organisers to hold events and the compromise that the committee has reached does all of this.
"We will monitor the additional noise control measures and continue to work with both concert organisers and residents to ensure this is an effective solution to concerns raised."
'Common sense prevailed'
John Probyn, chief operating officer of Live Nation, which organises concerts at the park, said: "This is good news for the thousands of Londoners and visitors from overseas enjoying all concerts we have in place, and also the London 2012 events in Hyde Park this summer."
London's Mayor Boris Johnson said he believed "common sense has prevailed".
He added: "Westminster are right to respect their residents, but they also have a responsibility for the economic vitality of the capital overall.
"Large-scale music events like the Hyde Park concerts make a massive contribution to London's economy."
The council said there would also be more stewards employed during events in future, with better arrangements put in place for cleaning up after concerts.
The Royal Parks also acknowledged there was an "issue of public nuisance", the council said.