Tram race rant accused Emma West pleads not guilty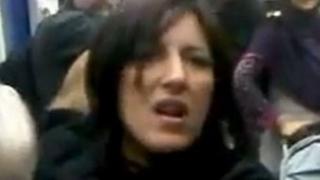 A woman has pleaded not guilty over an alleged racist rant on a tram in south London, which has been seen online 11 million times.
Emma West, 34, of New Addington, south London, appeared at Croydon Crown Court charged with two counts of racially-aggravated public order offences, one with intent to cause fear.
She was arrested in November after footage, filmed on a Croydon-to-Wimbledon tram, was posted on YouTube.
She will stand trial on 11 June.